Touch Screen 32 Elo Touch Capacitive
The full 32 "Full HD Elo 3243L touch-screen display offers a professional grade widescreen display and sleek design less than 2.3" (58mm) full thickness, while the touchscreen glass meets stringent testing requirements. UL60950 UL60950 ball-drop impact resistance, it is ideally suited for applications in particularly demanding public environments.The full range of features includes analog and digital interfaces, multilingual display and remote control. for on-screen display (OSD), standard VESA mounting, mounting brackets and international approval.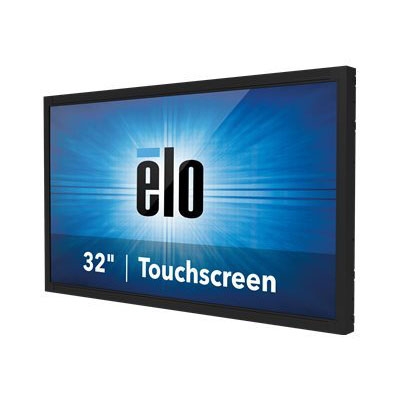 Description
Technology and touch features
SAW (IntelliTouch® Surface Acoustic Wave) - Two Keys
PCAP (Projected Capacitive TouchPro®) - 10 keys
USB touch interface
Screen size (diagonal): Diagonal of 31.5 ", active matrix TFT LCD (LED)
RCT settings: The clock / time and ON / OFF programming of the monitor can be changed in this menu. Daylight Saving Time is automatically adjusted and changes the current time by one hour to match daylight saving time.
Picture format: 16: 9
Active area (mm): IntelliTouch Dual Touch: 27.57 "x 15.54" / 700.4 mm x 394.85 mm
PCAP: 27.57 "x 15.54" / 700.4 mm x 394.9 mm
Resolution: 1920 x 1080
Viewing angle: Horizontal: ± 89 ° or 178 ° total / Vertical: ± 89 ° or 178 ° total
Number of colors: 16.7 million
Input video format: VGA analog port, HDMI 1.3 port compatible with HDCP (international model only), DVI (Asian model only)
Input Video Signal Connector: VGA Analog Port on DE-15 Female Connector, HDMI Type A Connector (Receptacle) (International Model Only)
Dimensions
IntelliTouch Dual Touch: 29.0 "x 17.4" x 2.25 "/ 736.4mm x 443mm x 57.2mm
PCAP: 29.42 "x 17.82" x 2.1 "/ 747.3 mm x 452.7 mm x 55 mm
Weight (not packaged): IntelliTouch Dual Touch: 26.7 lbs / 12.1 kg